Premium hardcover with matte gold foil debossing

Include a personalized note with your order
100% Plastic-free packaging
Size: 5.3 x 8.5 inches (A5)
Customer Reviews
11 Jun 2021
Ritu V.

India
Just amazing!
I'm definitely going to gift, recommend everyone to include this in their daily routine! Thank you so much for curating this wonderful journal.
07 Jun 2021
Shreya A.

India
The best habit in the best Journal!
The brightside journal by Alisha was my impulse purchase when it was launched a year and a half ago! The aesthetic that Alisha brings to her work and the positivity that she creates around herself made me want to buy this journal. I have been following her on Instagram for a couple of years now and she talked immensely about gratitude. I never really understood it nor did I practice it. So this journal was a very smooth transition into this practice and I couldn't have been happier. My life has completely turned around for the better in the last one year, irrespective of Covid. I learnt about positive affirmations from this Journal and how you can affirm and achieve your goals in a breeze. She has made sure that this journal motivates you to write in it everyday by giving you beautiful quotes prompts on every page. Since I started practicing gratitude, I have asked other people around me to try it too and their experiences have also been magical. This has truly been a game changer and I cannot recommend it enough. Please buy this and see your life positively change in front of your eyes. Thank you Alisha and the team who came up with this. You have changed people's life and you're doing that brilliantly! Cheers! Also, this is my second year of Gratitude Journaling, and I'm never stopping
06 Jun 2021
KAVITHA R.

India
The most valuable gift to my daughter.
My daughter loved the Brightside journal and this is what she says about it : " In the context of how the pandemic has affected the world, I needed something to help me focus on the positive side & keep myself sane - To help me with it, Brightside journal was the perfect gift Amma gave (and the personal note being even more special <3) I get so excited to write in my journal every night as it leaves a smile on my face and then I have the most peaceful sleep ever. After a month of journaling, I can say it changed my life for the better - appreciating small moments of happiness has become a part of my lifestyle now. Even on days when I think there's nothing to be grateful for today, I try to sit with my journal, recall my day and then realize that there are so many little things in life we take for granted. The journal has been designed in a way that it doesn't take much of your time(and this helped a beginner like me maintain consistency). The positive quotes on every page, tiny hearts to rate your day, monthly check-ins, pause to do small acts of gratitude, journaling tips for beginners, etc. - just everything about it is perfect to make you a happier and better person who enjoys life more."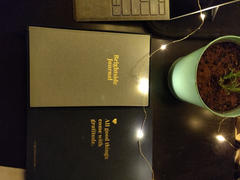 03 Jun 2021
Anukriti S.

India
Good Buy!
The diary is as expected quality wise. Love the colour of the cover!
02 Jun 2021
Navya W.

India
One of the most useful purchases ever
Brightside journal has helped me be way more consistent in practising gratitude and manifestation. You should definitely invest in it if you are just starting.