Premium hardcover with matte gold foil debossing

Include a personalized note with your order
100% Plastic-free packaging
Size: 5.3 x 8.5 inches (A5)
Customer Reviews
21 Jul 2021
Shaila R.

India
Love Brightside and looove Alisha Mishra
i've been following @greymurmurs for 4 years now and i am so grateful that i stumbled across her account that changed my life for the better. been practicing gratitude journalling eversince Alisha started sharing her journalling stories on her account, and then she released Brightside and my journey has been nothing but perfect. I'd give anything to purchase a product Alisha makes
17 Jul 2021
Ritu K.

India
Can be a lovely gift
I bought this for a friend to journal as she got introduced to journaling in a course and found it quite useful. This forms for a great and useful gift. She loves it and especially the prompts mentioned which guides her flow of thoughts. Thank you!
12 Jul 2021
Diya K.

India
Counting blessings one day at a time.
Since the day the journal has arrived. I have loved every bit of it. Right from the introduction on to how to align ones thought and practicing gratitude to turning it into an everyday habit. The journal is a keep and doesn't fails to remind me of the good things in life. I am grateful for this journal because it just makes practicing gratitude so easy.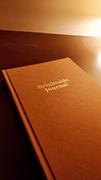 06 Jul 2021
Mehul J.

India
Best decision ❤️
I bought this journal after watching prajakta koli's video and I am so glad I did buy this. Not only it looks aesthetic but it really lifts up my mood. Everyday I look forward to write in my journal. It makes me look at the BRIGHTSIDE everytime I write in my journal. Has completely changed my perception of a bad day ❤️
01 Jul 2021
Saiee P.

India
Can't skip a single day (night) of writing in this journal!
The journal is magical! I got to say it was an impulse buy! My love for stationaries forced me to but this journal. But when I started writing everyday in it, I got hooked! Now, I look forward to having some alone me time with this journal every night before going to bed. This has become the unskippable part of my nighttime routine and I cant stress enough on how delighted it makes me feel when I am done writing it every night. I go to bed with a smile its been almost 40+ days and I have already recommended this to my friends.